#Kaithi
Kaithi (2019 film)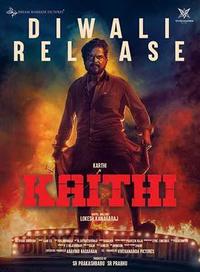 Kaithi is a 2019 Indian Tamil-language action thriller film written and directed by Lokesh Kanagaraj. The film stars Karthi, Narain and Dheena. It is produced by S. R. Prakashbabu and S. R. Prabhu under the banner Dream Warrior Pictures and Read More..
Ratings
Likes
3
Reviews

3
No reviews available for
#Kaithi
, Do you know
Kaithi (2019 film)
?, Please add your review and spread the good things.
#Kaithi is sheer brilliance for an action genre movie. 1st half was simply riveting & 2nd half thought there are some setback scenes, overall it's a brilliant movie.
2 Likes
DisLike
Solid performances, well written script makes a winning formula for successful film.
#Kaithi review 🔥💯Kaithi was a fresh breath of air. I loved the non cliched story, I loved the performances, I loved how this movie was only hero centric only when the script needed it.This is a near perfect movie but the kind of near perfect we needed today especially after Bigil. Not that there is a contest or something but if there was one, Kaidhi is the clear winner.Lokesh Kanagaraj is the director, he has made this film called Managaram 2017, if y'all haven't seen this one, that one is a must watch. A well written original script.That movie was the reason why I wanted to watch Kaidhi today and Lokesh didn't disappoint at all. Just because he has a big actor on board ,it doesn't seem like he compromised the script like others do.The script is pretty simple and action packed and filled with content and there is no one dull moment in this film.The movie doesn't have a female lead but no female lead is always better than a poorly written one.I did feel a bit of a lag here and there but overall pacing of the screenplay made up for it. The climax action sequence is something I enjoyed very much. This is the case with well written movies, they do a good job of entertaining you.But some parts could have been done better in my opinion, the character of the undercover cop should have added something more than what it did. This is a solid film regardless of minor issues, no doubt in that.The film is so good that, a certain Ram Kumar look alike director should drink the piss of Lokesh Kanagaraj so that he might gain some writing skills.
2 Likes
DisLike
இத்தனை விறுவிறுப்பான சினிமாவைப் பார்த்து பல ஆண்டுகள் ஆகிவிட்டது.
கைதிவெகு காலத்திற்குப் பிறகு திரையரங்கில் இரண்டாம் முறை விரும்பிச் சென்று பார்க்கிறேன்.Golden rule of composition என்று புகைப்படக் கலையில் ஒரு முறை உண்டு. படத்தில் ஒரு Frame கூட அதிலிருந்து விலகிச் செல்லவில்லை. அத்தனை துல்லியமான ஒளிப்பதிவு! ❤️Sathyan Sooryan❤️வேறு தளத்தில் பயணமான கதையின் ஒரு பகுதி மட்டுமே இந்தப் படம்.முதல் காட்சியில் கையில் காயத்துடன் வரும் நரேன் கதாபாத்திரத்திலேயே அதை உணர முடியும். அந்தக் காயத்திற்கான காரணமோ அல்லது எப்படி அந்த கடத்தல் போதைப் பொருள் போலீசிடம் சிக்குகிறது என்ற முன்கதையோ படத்தில் இருக்காது.எனவே இதையும்,கார்த்தி எப்படி ஆயுள்தண்டனைக் கைதியானார் என்ற கதையையும் கண்டிப்பாக இரண்டாம் பாகத்தில் எதிர்பார்க்கலாம்.நான் யூகிப்பது சரியாக இருந்தால் இரண்டாம் பாகம் கார்த்தியின் மகள் கடத்தலாக இருக்கக் கூடும்.இந்தப் படத்தில் எனக்கு நெருடலாக இருந்தது... திருச்சி கமிஷனர் அலுவலகம் கேட்பாரின்றி அனாதையாக இருப்பது தான். அத்தனை முக்கியமான ஒரு அலுவலகத்தில் நடக்கும் களேபரங்களும் ஒருவரது கவனத்திற்குக் கூட நான்கு மணி நேரங்களாக வராமல் இருப்பது அதிசயம் தான்.கதையை சிசிடிவி, செல்போன் டவர் என்பது போன்ற எந்த வசதியும் இல்லாத சத்தியமங்கலம் காட்டுப் பகுதியில் ஏதோ ஒரு காவல் நிலையத்தில் நடப்பது போலக் காட்டியிருக்கலாம். கொஞ்சம் நம்பகத்தன்மை கிடைத்திருக்கும்.மற்றபடி திரைக்கதை நகர்வு படத்தில் அதகளம்! கைதி குழுவினர் அனைவருக்கும், இயக்குனர் Lokesh Kanagaraj அவர்களுக்கும் வாழ்த்துக்கள் !
1 Like
DisLike
View All Reviews
MORE INFO
This #hashtag is not ranked yet.