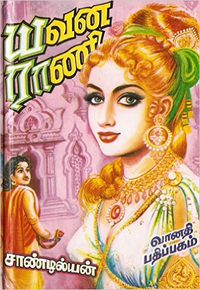 Yavana Rani (, , lit. Greek Queen) is a Tamil language historical novel written by Sandilyan. The story is based on ancient Tamil poetry. It is a love story set around 2000 years ago, focusing on the Commander-in-chief of the Chola Army. The story Read More..
Ratings
Likes
1
Reviews

4
No reviews available for
#YavanaRani
, Do you know
Yavana Rani
?, Please add your review and spread the good things.
Best book to read.
"Yavana Rani" is a Tamil historical novel written by Sandilyan. One of the best book I ever read. In English it is called as "Greek Queen". It is a love story set around 2000 years ago, focusing on the Commander-in-chief of the Chola Army. The story takes place during the period of Karikalan, one of the greatest kings of the Early Cholas. I love the roles of both YavanaRani and Poovazhagi. Heart touching story.Whoever is interested in reading novels should read it.
2 Likes
DisLike
Despite all the drawbacks its one of the best story and those who found interesting in reading a historical novel , they will never be fooled .
I just now started reading the sandiliyan novel Yavana Rani . The story is history based and events took place 2000 years back during karikala chola period. The story revolves mainly around these four characters Ilancheliyan ,hippalas, yavana rani and tiberius.1. Ilancheliyan -chief commander of chola, and the hero2. Hippalas - assistant of Ilancheliyan3. Yavana Rani - princess4. Tiberius- the antagonistThe story description is available in the wikipedia.Here i will tell what i feel while reading the novel.First of all, Sandiliyan is never an equal writer to Ponniyin Selvan Kalki.Sandiliyan just drags the story and pure heroism which is not even performed by our now Tamil heroes (lol)Even though the story and imagination are good, i somehow feel that its not interestingI just finish off the book, i don even remember the full story that is the point.
1 Like
DisLike
Sandilyan's masterpiece.
I had the chance to read "Yavana Rani" again. I am sure I must have read this book atleast four times starting from my X standard vacation. But every time I read, I find it as an interesting novel, a great story based on a real war and enjoy it immensely. Infact, I would go as far to say that this was Sandilyan's masterpiece. Yavana Rani is about how Karikala Chozhan fought and won the battle of Venni (the place where the battle was fought) crushing both Pandya & Chera kings (the two big Kings who ruled South India during that time) to regain his rightful throne. But the story revolves around a fictional character of Illanchezhiyan, leader of a small army and how he helps the King in this great war.It is published in two parts and is nearly 1280 pages long but to author credit it has to be said that he writes it in a very interesting way that we crave for more. Ofcourse, sometimes The author gets into lengthy descriptions and narrations about nature and physical features of women, especially when we eagerly look forward with bated breath to see how events unfold. Also, in certain cases, he ends a chapter with a very important knot but the knot is revealed only after a couple of chapters testing our patience.
1 Like
DisLike
This book is a must read for all those love historical fiction as good as Ponniyin Selvan.
This is his best work according to me. This book takes place in the great Karikala Chozan's period. Ilanchezhiyan, a Choza chief commander is the hero of this novel.The main characters in this book are Ilanchezhiyan (hero), Hippalaas (Greek soldier under Ilanchezhiyan), Brahmananda (a monk who helps the hero), Yavana Rani, Poovazhagi (Ilanchezhiyan's lover), Karikala Chozan.Sandilayan doesn't take much time to get into the story. The story starts right from the first page, where Ilanchezian finds Yavana Rani at the seashore of Poompuhar, which was Choza's fort once. His life changes completely from that point. Tiberius, a Yavana leader, who plans to bring Poompuhar in his control and rule under this Yavana Rani is the main antagonist. He is as good as Ilanchezhiyan. Ilanchezhiyan escapes from Greek soldiers by taking the Yavani Rani as his hostage, imagine that scene from Gillli :). And, he runs and runs and runs, the story too moves as fast as it could.This story travels to Arabia. Ilanchezian was poisoned and sent in a ship, we get to know about a king of that land and Ilanchezian is caught there with all other thieves. He manages to escape with the help of that king's adopted child. He comes back to Tamilnadu with that girl. Ilanchezian rescues Karikalan, Sandilyan also explains why he is called 'Kari'Kalan, must be fictional. Then, he plans for a big war against the Karikala Chozan enemies. He helps Karikala Chozan to get his throne. After that, he returns to Poompuhar to destroy Tiberius after almost some years.This book is a must read for all those love historical fiction. This will be as good as Ponniyin Selvan, but shorter than it. It has many twist and turns and it never let the pace down at any point. You will get completely involved in the story and love Yavana Rani and Ilanchezhiyan.
1 Like
DisLike
View All Reviews
MORE INFO
This #hashtag is not ranked yet.