#WrongMeansRightEnd
Wrong Means Right End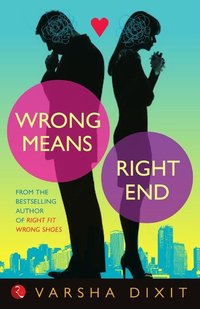 Wrong Means Right End tells the tale of Sneha, a single mother who is working hard to earn a living to support herself and her young son. Her focus solely lies on making their ends meet and she has lost interest in love or dating. Sneha's best Read More..
Ratings
Likes
2
Reviews

1
Reviews of Wrong Means Right End
No reviews available for
#WrongMeansRightEnd
, Do you know
Wrong Means Right End
?, Please add your review and spread the good things.
Wrong Means Right End is an enjoyable read, one time, if you are not a big fan of chick-lit. Pick up this book if you are in the mood for a good laugh and simple story that you can relate to.
Varsha Dixit's third book overall, and second book in the Wrong-Right series, 'Wrong Means Right End' is a humor fest, thanks to Sneha, the female protagonist. Every page draws out a few giggles, a grin or outright laughter. The book comes packed with fun and narrates a simple story of love, vengeance and friendship. The story kicks off with Sneha being set up on a string of blind dates by her best friend Nandini, who thanks to her affection for the former does not hesitate to meddle in affairs. Sneha endures the experience rather than enjoy it because she is a single parent and happily divorced. The takes that go back and forth between these two women is giggle-worthy and enjoyable. The plot takes a turn when Nikhil Chandel, an acquaintance from the past emerges and sparks fly between him and Sneha. The duo also manage to successfully loathe each other adding to the chemistry. An evil-minded Mona enters the fray and befriends the gullible Nandini, only to sow some distance between the two best friends. Mona's larger scheme is to bring in Gayatri who happens to be the one Aditya, Nandini's husband breaks up with, when he previously fell in love with Nandini. Amidst all the plotting, Sneha and Nandini meddle in each other's lives to fish the other out of trouble and the former manages to find love with Nikhil. Just when things seem to be coming together, they go to pieces. In the last few chapters, you find out if at all, Sneha manages to put things back in her favour.What worked for me:- For the major part, humor that forms the backbone of the narration and outlines Sneha's character which Is well drawn out.- The silly words that Sneha and Nandini use to replace swear words so that Sneha's toddler son won't pick up bad language.Funny and ingenious!- The chemistry between Nkihil and Sneha that adds a lot of steam to the narration. At a few points, I felt it was a tad too much but towards the end, it was all tied up neatly so I am not complaining. - The chapter titles that borrow a phrase from somewhere within the chapter.What did not work for me:- Grammatical and spelling errors at quite many points within the book was a huge turn off.- A few instances sounded clichéd. Like Sneha's son calling Nikhil 'Dad' out of the blue. Originally posted by https://www.blogger.com/profile/14103024728361258049
1 Like
DisLike
MORE INFO
This #hashtag is not ranked yet.