#TheShallows-film
The Shallows (film)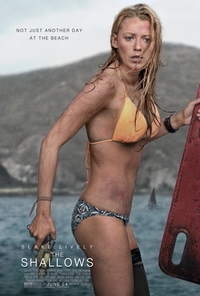 The Shallows is a 2016 American survival thriller film directed by Jaume Collet-Serra, written by Anthony Jaswinski and starring Blake Lively. In the film, a surfer gets stranded 200 yards from shore, and must use her wits and determination to Read More..
Ratings
Likes
0
Reviews

1
Reviews of The Shallows (film)
No reviews available for
#TheShallows-film
, Do you know
The Shallows (film)
?, Please add your review and spread the good things.
'The Shallows' is an intriguing, exciting, stylish and at times genuinely scary watch
The Plot:After being savagely bitten on the leg by a great white shark, Blake Lively's surfer Nancy is left stranded on a small rock only 200 yards away from the secluded Mexican shore. With only an injured seagull for company, Nancy must use her wits and sheer determination to outwit the monstrous fish that is slowly circling her tiny patch of safety. The Review:It's a simple premise and director Serra, for the most part, manages to keep his audience on the edge of their seats thanks to some terrific camera work and some truly horrific moments of bloody horror. Throughout the movies lean running time, there is never any point where Nancy doesn't feel under threat and while the CGI shark itself doesn't always convince, Blake Lively's powerhouse solo performance makes the film a thrilling yet completely believable visceral experience. Whether she is talking to the aforementioned bird or facing her toothy nemesis face to face, Lively's on-screen conviction never fails to convince or enthrall - providing what actually turns out to be one of the strongest female performances of the Summer. It may not bring anything new to the shark-infested table but for what it is, 'The Shallows' is an intriguing, exciting, stylish and at times genuinely scary watch that manages to overcome certain narrative tropes to becomes it's own solidly crafted rollercoaster ride.
Like
DisLike
MORE INFO
This #hashtag is not ranked yet.