#TheMagnificentSeven-2016Film
The Magnificent Seven (2016 film)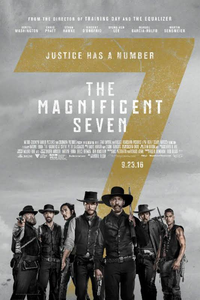 The Magnificent Seven is a 2016 American Western film directed by Antoine Fuqua and written by Nic Pizzolatto and Richard Wenk. It is a reimagination of the 1960 western film of the same name, which in turn was a remake of the 1954 Japanese film Read More..
Ratings
Likes
1
Reviews

1
Reviews of The Magnificent Seven (2016 film)
No reviews available for
#TheMagnificentSeven-2016Film
, Do you know
The Magnificent Seven (2016 film)
?, Please add your review and spread the good things.
Though it is sadly light on much as far as character development and drama, what we do get is fun enough to be worth for money
Poorly made movies can occasionally be made bearable by a certain admirable trait, whether it be an excellent story or cinematography ect. In the Magnificent Seven's case the saving grace comes from its star studded cast. Director Anotine Fuqua does not necessarily bring anything new to the table but the cliché western is undoubtedly fun with many a moment that will make you chuckle and wish for the old days regardless of your age. This ages old tale of a bunch of ruffians coming together to take out the bad guy may be as old as the Western itself but the undeniable charm will make you grin in spite of itself.The always reliable Denzel Washington takes over the role of Steve McQueen as The Man in Black, Sam Chislom, a silent but deadly type in the frontier. He is met by citizens of a town being terrorized by the egomaniacal Bartholomew Bogue (Peter Sarsgaard) who is every bit of the moustache twirling villain. Joining Chislom is a merry band of rouges including gambling self-proclaimed "world's greatest lover" Faraday (Chris Pratt) war legend Goodnight Robicheaux (Ethan Hawke) bible thumping trapper Jack Horne (Vincent D'Onofrio) and more. Together this band of "heroes" works to take down the evildoers.The hardest part of the film to swallow is easily the beginning when the cast is fractured. The hunt to bring the party together is a sloooooow burn which makes it hard to sit through the first half of the two hour run time. The only piece of the party that works solo is Chislom because of some dark emotions that play in his backstory. Other characters have similar demons in the closet like Ethan Hawke's Goodnight, but we never see to deep into it because that would keep the film from being as fun. But as the cast slowly starts to build and becomes one cohesive unit, everything gets kicked into first gear. You get the sense that the actors had a hell of a good time making this and when they start having fun you will too. There are a number of scenes where the guys are just being guys, lying around, talking about girls, talking smack, (you know, guy stuff). These scenes may be visually unimpressive but they are easily the most fun.That's not to say the action does not entertain. When the bullets finally start flying, shots get intense. Like the original, the remake keeps the bravery of making sure no one is safe allowing some big characters to bite the dust. It keeps the tension tight in an otherwise carefree movie. Everyone gets their moment to shine but my personal favorite has to be D'Onofrio's Jack Horner. The absolute bear of a man physically looks like he should be kicking ass and taking names (like he does in Daredevil) but though is character is undeniably deadly, he has a soft spot too. With a whistly voice and a penchant of respect for all including his enemies, he is masterfully balanced by D'Onofrio's acting. I feel that everyone will have their own personal favorite which just goes to show that there is an element for everyone to enjoy in this magnificent journey.With all of the explosions, quips, and mayhem, The Magnificent Seven feels like a summer blockbuster that got pushed to the Fall.
2 Likes
DisLike
MORE INFO
This #hashtag is not ranked yet.