#SonyXperiaX
Sony Xperia X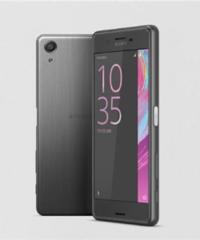 The 5" Android smartphone with a super-fast camera, 2-day battery life and a stunning metal design. Xperia X's Smart Capture technology helps you getting clear pictures. Enabled by Sony's new Predictive Hybrid Autofocus, Smart Capture lets you Read More..
by Sony
Ratings
Likes
2
Reviews

1
Reviews of Sony Xperia X
No reviews available for
#SonyXperiaX
, Do you know
Sony Xperia X
?, Please add your review and spread the good things.
Worth a look mid-range phone from Sony.
The Xperia X is a mid-range handset that Sony is selling to capture its mid-range mobile space:Design:The design isn't all that dissimilar to the outgoing Xperia Z5 family. The X has a metal-looking frame with a glass front and a simple slab shape. If you've been paying attention to the evolution of Sony's stark design language you'll immediately recognize the Xperia X as a Sony. Perhaps the biggest departure from the old Z series is the X's use of metal for the rear panel rather than glass, and the use of polycarbonate for the frame rather than aluminum. These changes don't impact the look all that much, but they do alter the phone's experience dramatically as far as hand feel is concerned.The Xperia X is a compact device. The 5-inch screen allowed Sony to keep the overall dimensions in check. The weight is comfortable. I found the device enjoyable to use for several days. Most people should be able to hold and use the phone with one hand, meaning the device will work for those who have smaller hands. It fits in pockets no problem.Screen:Sony gave the Xperia X a fine display. It measures 5 inches across the diagonal with full HD (1920 by 1080 pixel) resolution. The LCD panel includes Sony's TriLuminos and X-Reality technologies to improve color and clarity. The colors certainly pop, and the display is bright enough for indoor and outdoor use. I think the size and pixel count provide more than enough clarity and can't say whether or not X-Reality helped improve it. The display offers fantastic viewing angles and avoids fingerprints like the plague. It's a good screen.SoundThe X is an acceptable voice phone. Sound quality through the earpiece is pretty good. Voices are warm, but sometimes prone to distortion. Volume is just barely adequate. The X is loud enough for use at home or the office, but hearing calls in the car or on busy city streets was difficult. People I spoke to through the X said I sounded "just okay."The speakerphone is close to useless. The quality drops noticeably, as most calls are riddled with distortion. Setting the volume up all the way won't help you hear calls in your car, or other noisy spaces. It's simply not loud enoughBattery:The Xperia X ships with a 2,620 mAh battery that has a few tricks up its Lithium Ion sleeves. First, the battery lasts beyond one-and-a-half days. The Xperia X often pushed beyond lunch on the second day. Few phones deliver that much longevity from this size battery.Second, the battery charges quickly. For example, 10 minutes plugged into a charger will add 5.5 hours of life to the battery. The battery takes well under two hours to recharge fully from 0%. We can thank Quick Charge for this rapid-charging skill.Third, Sony is making use of technology from Qnovo to extend battery life; not daily battery life, mind you, but the overall longevity of the battery itself. It uses adaptive charging technology and can prevent the battery from losing capacity over time. In other words, after a year of daily charging cycles, the Xperia X battery should have a higher percentage of its capacity still available than most other batteries.Last, the Xperia X includes three power management tools: Battery Saver Mode, Power Saver Mode, and Ultra Power Saver Mode. Between these and the already-very-good battery life, you can't get away with telling so-and-so that your phone died and that's why you didn't respond to their text.
2 Likes
DisLike
MORE INFO
This #hashtag is not ranked yet.