#ShadesOfLifeNovel
Shades of Life: Sublime Joy Is in Living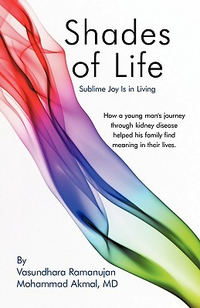 In November of 1996, fifteen-and-a-half-year-old Aditya Raghavan complained of a headache-one that could not be soothed with over-the-counter pain relievers. His motherVasundhara took him to the doctor where more tests were conducted. What the Read More..
Ratings
Likes
2
Reviews

1
No reviews available for
#ShadesOfLifeNovel
, Do you know
Shades of Life: Sublime Joy Is in Living
?, Please add your review and spread the good things.
Shades of Life is a story of survival. Of how one family braved it through two critical health problems that threatened to rob one of their own, of holistic living.
Shades of life is a first person account of Aditya's struggle and subsequent recovery from Renal Failure that caused him to lose function in both kidneys even before adolescence. While it was the boy who suffered from the clinical implications of the disease, his family – father, mother and elder brother, suffered along with him, emotionally as well. Vasundhara Ramanujan's moving account, detailing her younger son's condition and how it affected and changed normal life for the family, is a revelation. Of how, the ring of suffering and recovery is not just restricted to the patient but extends to his loved ones who wish to see him heal and return to life as they once knew it. The book is a trove of information on renal disease, a more personal account rather than medical, offered from the point of view of Vasundhara and her family. While a text book or encyclopedia might give you all technical details of the condition and case studies to accompany, Aditya's story includes a different perspective. It gives you, in addition, the reaction of a family, which until a stubborn headache, had a peaceful existence worrying about the result of cricket matches and college admissions. You get to feel and experience the patient side of the story, from the initial shock to coming to grip with the condition and choosing to fight to live and live with better health.What worked for me:1. Short chapters with concise accounts of events.2. Chronological sequencing of experiences and information that make this book more of a journal than a compilation of medical inferences.3. The physician profiles at the end, detailing the work and achievements of experts in the field that I am sure will be useful to many.4. The honest tone of the book that does not at any point of time attempt to be overtly dramatic.Originally posted by https://www.blogger.com/profile/14103024728361258049
1 Like
DisLike
View All Reviews
MORE INFO
This #hashtag is not ranked yet.