#ParthibanKanavu
Parthiban Kanavu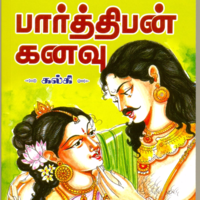 Parthiban Kanavu (, , lit. Parthiban's dream) is a famous Tamil novel written by Kalki Krishnamurthy.
Ratings
Likes
0
Reviews

4
Reviews of Parthiban Kanavu
No reviews available for
#ParthibanKanavu
, Do you know
Parthiban Kanavu
?, Please add your review and spread the good things.
Its a highly entertaining read that rarely sags and almost every page has something wild and racy happening.People who like stories of kings and conquests will definitely like this.
A short intro about the story:Parthiban is a Chola king.His empire is heavily marginalized with the Pandiyas,Cheras and Pallavas pressing into his territory from all directions.Pallava ruler,Mamalla Narasimha Chakravarti is the most dominant king in the southern lands and makes all other rulers pay tax to him.Parthiban refuses to pay up and decides to go into a war against the Chakravarti ,knowing very well that his troops are nowhere comparable to the Pallava army.Before marching into the battle ground,Parthiban unveils his dream(Chola kingdom becoming the strongest in the region) to his son ,Vikraman.Vikraman is but a boy at his stage ,but decides to make his father's dream a reality. Parthiban goes into war and is killed.However,before he dies ,a Shivanadiyar(Shaivite devotee) promises to help Vikraman realise his father's goal.The rest of the story is about how Vikraman realises Parthiban's dream.He is aided in his quest by several people like Ponna,a boatman,his wife,Valli ,Siruthondar and the mystery Shivanadiyar.Vikrama has a love interest as well-Kuntavi,who is the daughter of the Chakravarti.And a bunch of villains to foil Vikraman's resolve.The main supense aspect is "supposed"to be the identity of Shivanadiyar.However,the narrative gives you enough clues early on to figure out who he is.So that is not exactly too surprising when at the end of 250 pages the Shivanadiyar reveals himself. I have no clue whether the subtelity got lost in the translation or whether Kalki's work is liberal with the clues too.
Like
DisLike
MORE INFO
This #hashtag is not ranked yet.