#Ntuppuppakkoranendarnnu
Ntuppuppakkoranendarnnu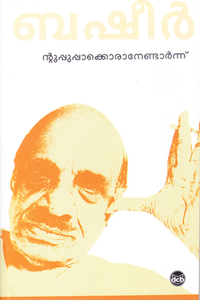 Ntuppuppakkoranendarnnu (My Grandad Had an Elephant) is a short novel by Vaikom Muhammad Basheer published in 1951. It is one of the most famous among his works.The story is woven around the love of Nissar Ahmed for Kunjuppathumma. But the dominant Read More..
Ratings
Likes
1
Reviews

1
Reviews of Ntuppuppakkoranendarnnu
No reviews available for
#Ntuppuppakkoranendarnnu
, Do you know
Ntuppuppakkoranendarnnu
?, Please add your review and spread the good things.
The writer has taken a purposeful effort to question many a unquestioned religious beleifs, both explicitly and subtly
That book title sound not too abnormal for some one from Kerala. But it's got nothing to do with any of my grandfathers. Both of them did not have an elephant (AFAIK !). The title is that of one of the many amazing works of celebrated Malayali writer, Vaikom Muhammed Basheer. Known as the Sultan of Beypore, Padma Shri Basheer was a writer who went against/across the contemporary literary style of his era, defying oppositions and ultimately etching his unique mark in the Malayalam literature.The protagonist of the story is a girl and the timeline is her life and events surrounding her growing up till her marriage, which happens to be far too delayed to the then societal standards. Kunju Pathumma,(can be translated to international standards as "Little Fathima") the heroine grows up with an opulent childhood and gains unquestionable knowledge on Muslim religious beleifs from learned members of the society around her. Her father, Vattanadima (Literally translated as "The mad Slave", and that was one of the real names used in those times) was the richest man in her village and commanded the respect for that. Her life though then takes a U-Turn as her father loses all his properties in family litigation. Her mother, prevailing from wealthy family, portrayed very much as a spoiled rich woman, would always boast about the elephant that her dad, "Aana Makkar" had. And there comes the title of the story, from the protagonist's view point; Entuppooppakkoranendarnnu. The way, Kunjipathumma's mother's sandals are described as having the ivory tusks' remnants of her dad's erstwhile beloved elephant and the pride with which she walks wearing those sandals is a joy to read. The change in behavior of characters and the society when money flows out , is another picture that's well laid through out the story.The writer has taken a purposeful effort to question many a unquestioned religious beleifs, both explicitly and subtly. At the same time, he also portrays the real essence of religious teachings through the character and thoughts of Kunju Pathumma. Her concern and sympathy towards fellow beings and not just humans, truthful nature all throw light to what real essence of religion is all about. Through out the story there are instances where Shri Basheer refers to backgrounds of religious beleifs, quite a good repository to the curious mind. Not out rightly teaching these through verses or boring prose, but wrapping that within amazingly crafted humour and to the point sarcasm when required is just unmatched skill. The story is in Malayalam and it will be most enjoyable when read in the same, even though this has been translated to English. Much of the master craftsman's works uses the literary slang prevalent in various parts of Kerala to it's best effects. He's been strongly criticized for his unconventional usage of language, but he always stood his ground and continued writing in the spoken language.Originally posted on http://bit.ly/2dfuhLy
1 Like
DisLike
MORE INFO
This #hashtag is not ranked yet.