#MotoG4Plus
Motorola Moto G4 Plus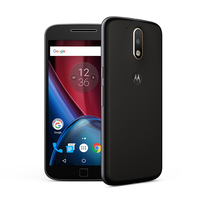 The Moto G4 Plus smartphone features a 5.5-inch full HD (1920*1080 pixels) display,a fingerprint scanner embedded into the home button, and is powered by an Qualcomm Snapdragon 617 octa-core 1.5 GHz processor paired with 2GB of RAM. The smartphone Read More..
by Motorola
Ratings
Likes
0
Reviews

1
Reviews of Motorola Moto G4 Plus
No reviews available for
#MotoG4Plus
, Do you know
Motorola Moto G4 Plus
?, Please add your review and spread the good things.
A good moto phone with great display, sorund and battery, but still in old body!!!
Motorola's middleweight smartphones are back for another round. The Moto G4 and Moto G4 Plus share most features, but the Plus adds a little something extra. These devices run a near stock version of Android and enjoy some welcome enhancements from Motorola. Here is Phonescoop's in-depth review of Moto's latest mid-range handsets.Body:To start, the G4 is significantly bigger than its predecessors (6.02 x 3.02 inches compared to 5.59 x 2.85 inches). Lenovo bumped the screen size from 5 inches to 5.5 inches and had no choice but to increase the phone's dimensions. Amazingly, the G3 and G4 weigh the same at 5.47 ounces. Where the first three generations were a good size for most people, the G4 is a phablet and may be too big for some. (The G4 Play, due later this summer, is a bit smaller with its 5-inch screen.)The design has a bit less personality. The G has always had a somewhat plain face but a curvy backside that helped the phone sit deeper in your palm. The G4's face is even more plain (something I didn't think was possible) and the rear has been flattened out in favor of a more cookie cutter shape. BO-RING. What we're seeing here is the Lenovo-ing of Motorola's industrial design and I don't like it one bit.Screen:The G2 and G3 each had 5-inch 720p displays that were just fine for their price point. The G4 steps up to a 5.5-inch screen with 1080p HD resolution. It's a great display. The resolution is dense enough that individual pixels are invisible; everything on the screen is razor sharp. The display throws off plenty of light. I was able to use the G4 indoors and out no problem, though it needs to be set to max brightness outdoors. (The auto-brightness function is really, really fussy.) With no blue shift or brightness drop, viewing angles are excellent. It's a fine display for a mid-range phone.Sound:The G4 is a solid voice phone. The earpiece produces loud, if somewhat harsh, voices that are easy to hear almost anywhere. The volume is there in spades at the cost of clarity. Calls were prone to distortion when set all the way up. The good news is you'll be able to hear calls at lower volumes with better clarity. Voice tones were bright in the earpiece, and those I spoke to through the G4 said I my voice sounded "very good."The speakerphone can bet set to incredible volumes. You can easily fill a moderate room with your conversation if you wish. BatteryAlong with the bigger screen, the G4 and G4 Plus have a bigger battery, too. It jumps from the 2,470 mAh power cell in last year's phone to 3,000 mAh. That's a huge upgrade. After testing the phones over the course of a week on three different networks, I feel confident in saying the Moto G4 should get everyone through a full day of average use with enough power to last through the night and halfway into the following day. Even under heavy use, the battery delivered a full day with some power to spare.
Like
DisLike
MORE INFO
This #hashtag is not ranked yet.