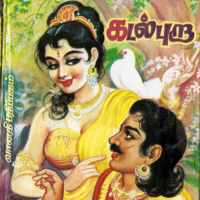 Kadal Pura (, , lit. Sea Pigeon) is a Tamil language historical novel written by Sandilyan. The story is based on the ancient Tamil Kingdom. It was named after the fictional ship built by the Chola Commander Illayapallavan (a) Karunaagara Pallavan, Read More..
Ratings
Likes
2
Reviews

5
No reviews available for
#KadalPura
, Do you know
Kadal Pura
?, Please add your review and spread the good things.
Gem of Tamil Novel
A beautiful novel by sandilynan, The novel portraits the travel of chola thalapathi ilaya pallavan who travels around the central-eastern countries and conquered various kingdoms. The love portion with ManjalAlaghi and kanjana devi was extraordinary, No one can beat sandiliyan for such mindblowing writings about the love and romance sequels of ilaya pallavan with his two heroines.
1 Like
DisLike
Classic book for tamil literature lovers.
kadal pura is a historical novel written by chandilyan and the story based on ancient Tamil Chola Dynasty.It tells how Karunagara pallavan succeeded his challenge against Kalinga, how he saved chola people from the pirates of the sea using the ship built by him ie. Kadal pura and how he married his love Manjal azhagi and how he became a king of Thondaiman. Very intersting to read.
4 Likes
DisLike
Can we rate Ramayan, Can we rate Mahabaratha...similarly we can't rate "PONNIYIN SELVAN"
Excellent I am not even a worthy person to write a review about the greatest historical novel I have ever read in both tamizh and english put together. For those who are curious to know the premise, it is basically about the life of a great chola(kingdom in south india circa. 1000 AD) king 'Raja Raja Chola' before he ascended the throne. It is narrated by a Vandhiya thevan who is also one of the protagonist. The story takes place during the time of political instability in the chola kingdom or to put it precisely the time before they discover about the impending threats to the kingdom. There are a lot of cultural references in this book about the various religions that existed during that period. The most interesting part is the fight between a vaishnavite priest and shivites. The first two volumes of the book have a very fast pace with spying, flashbacks, intros, love etc. The story toggles between Tamilagam and Sri lanka. And author has beautifully and vividly illustrated the places like dhanushkoti, northern parts of srilanka, thanjavur, and places near karaikal. I guess some of the places exists even today. Well, I would run out of time if I keep talking about this book. I would say people who are interested in reading historical novels will definitely like this book.
2 Likes
DisLike
A Gemstone of Tamil Literature.
Kadal pura by kalaki is an excellent one. kalki is known for his best works like ponniyin selvan, parthiban kanavu. this book also is one of his masterpieces. there are huge number of fans for him. all of his novels are super hit ones. it is because of his writing skill and imaginary power. he has used his talent well and had given people the legendary creations. in his stories he had the uniqueness of creating characters with different characteristics. he makes us feel that we are going along the story.it creates the urge inside us to read the novels.
2 Likes
DisLike
Good Novel In Tamil.
This is based on the life Kulottunga Chola I & his general Karunakara Thondaiman. In this novel Sandilyan brilliantly narrates the Cholas naval expedition to present day Malaysian, Indonesian Archipelago.
2 Likes
DisLike
View All Reviews
MORE INFO
This #hashtag is not ranked yet.