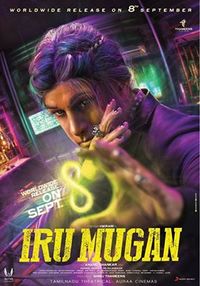 Iru Mugan is a 2016 Indian Tamil language science fiction action thriller film written and directed by Anand Shankar. The film stars Vikram in dual roles , Nayantara and Nithya Menen in the lead roles, while Nassar, Thambi Ramaiah, Karunkaran and Read More..
Ratings
Likes
2
Reviews

4
No reviews available for
#IruMugan
, Do you know
Iru Mugan
?, Please add your review and spread the good things.
Strictly for Vikram only...
An action crime based on drug mafia and illegal pharmaceutical supplies, headed an international mafia named Love, played by Vikram. Vikram also dons the role of RAW agent where his mission is to indentify and eliminate Love. Overall the movie boasts of briliiant stunt sequences, however, the plot fails to keep the audience engaged. Nayantara's role seemed a little hype to the movie and could have been better avoided. Another example of Indian movie where songs have been unneccessarily fitted into the plot. In short, Iru Mugan is worth a watch once.
Like
DisLike
above all a good family entertainer.
My #Irumugan reviewFinally the d day arrived, and loads of excitement, but reviews from some die hard fans simply hurt me, but later int hr day all negative s turned to positives,finally got an opp to watch my demi god on screen, goosebumps, what a film , arambame amarkalam... that intro was more than awesome, virtually drooling over him , his bearded macho look, te hot intro of Nayan, wow now we can easily say that they make the hottest couple in the K town, such an engaging plot..no dull moments and that interval block was awesome, then this luv character it really served as a fulcrum for this film , my god that get up, that dialogue delivery top notch simply out of thr world,Halena song one of my fav and both looked so hot, second half again beghan on high, though a bit monotonous in some places, but nevertheless made up by class acting of r demi god, that nurse get up was top notch, on the whole loved the film, we as a family enjoyed it... can easily say I enjoyed the film a lot and feel like watching it again and again, a new concept handled well by a new dir who is just one film old, bgm was awesome, kanai vitu and oh maya cld have had better picturisation though.
1 Like
DisLike
Good one time worth watching movie.
In between lot of contradictory reviews of Irumugan I felt the worth watching movie for the 120rs I paid. Anadh shankar who really did his excellence work in his previous movie #ArimaNambi deserves the same in Irumugan. Nowadays it is difficult to satisfy all class of people's expectations. People who encouraged Nokku varmam in 7th sense is hating #speed effects. After I movie , a good transformation for vikram with charming beard figure. A good Chance to expose his acting skills after Pithamagan. The character designed for #LOVE is hands off. It s rare to get more attached to Villan in a movie but it made me to fall in love with #LOVE. climax bgm song#Irumagansettai made positive vibration in everyone legs. Editor forgot to put scissors on few scenes which makes us bore.
1 Like
DisLike
overall Watch irumugan For Vikram Sir !!!
First Half - The Movie Starts with Sci-Fi Concept Good start Vikram's intro No Build up scenes For Intro Casual Intro Fight Malaysia entry ,Thambi Ramaiyaaa & Akhilan's Flash back Till here The Science concept correctly And there comes interval block scene.Second Half - Love character of vikram Vikramin Uchakatta nadipu pakka mass class Action First half LA love character epadiyo athae second half character layu carry panirukaru padathoda innoru Plus point #HarrisJayarajMusic Bgm Therikka Viturukaaru!! Nayanthara #LadySuperStar Padathula kudutha role eh correct panirukanga #NityaMenen,#Naaser,#Karunakaran,#Rithvika ivanga Ella padathula irukanga nadichirukanga but avanagala Director padathula seriya Catchy ah Audience ah grab panra Nadika vaikalayonu ninaikura Twists very normal twists Nothing much!! Mukkiyamana Visayam padathula Audience intha scene LA ithu tha logic nu kandipidikaruthu kulla adutha scene LA innoru logic scene vanthiruthu Oru scene miss panalum padam puriyathu Atha nala enamo logic loop correct ah work out aaala and so #Irumugan - Good Concept,Good Story but it fails in Screenplay to attract mass audience .. But Na Padam Paaka Venda Mokka Nalla ilanu solula It's about like that something in screenplay is missing .. overall Watch #Irumugan For Vikram Sir !!!
1 Like
DisLike
View All Reviews
MORE INFO
This #hashtag is not ranked yet.