#IdharkuthaneAasaipattaiBalakumara
Idharkuthane Aasaipattai Balakumara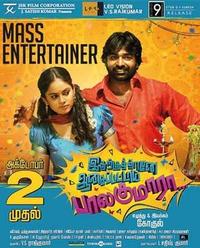 Idharkuthane Aasaipattai Balakumara (English: Isn't this what you wished for, Balakumara?), also referred to as Idhaaba, is an Indian Tamil comedy film, written and directed by Gokul of Rowthiram fame. Produced by Leo Visions, the film features Read More..
Ratings
Likes
0
Reviews

1
Reviews of Idharkuthane Aasaipattai Balakumara
Itharku melayum asai padu Balakumara..
What a way to spread awareness on drunk and drive. A brilliantly executed comedy drama where each and every character counts to perfection. Aswin, Vijay Sethupathi, Pasupathy, Robo Shankar and the list goes on. Vijay Sethupathy's innovative comedy track has set a benchmark of its own and proves actor's disciplined approach in portraying a middleclass colony being in Chennai. However, again food for thought being can such stalking should keep being featured in mainstream cinema? Although, it was enjoyable watching Vijay Sethupathy do it.
Like
DisLike
MORE INFO
This #hashtag is not ranked yet.