#DiamondNecklace-film
Diamond Necklace (film)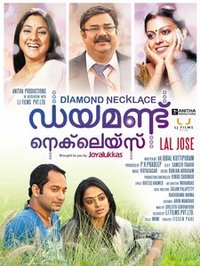 Diamond Necklace is a 2012 Malayalam romance film directed by Lal Jose, starring Fahadh Faasil, Samvrutha Sunil, Gauthami Nair and Anusree in the lead roles. Gauthami Nair and Fahadh Faasil won Filmfare awards for their roles. Composer Vidyasagar Read More..
Ratings
Likes
1
Reviews

1
Reviews of Diamond Necklace (film)
No reviews available for
#DiamondNecklace-film
, Do you know
Diamond Necklace (film)
?, Please add your review and spread the good things.
All in all, a diamond necklace with zero novelty.
First of all, I do not know exactly if DN is a Lal Jose movie or a Joy Alukkas movie. There are umpteen encounters with Joy Alukkas throughout the movie. One wonders, is the burden of tolerating the major commercial sponsor of the movie, a characteristic feature of the so-called new generation movies in Malayalam? As the movie begins, it is revealed that Dr. Arun Kumar (Fahd Fazil) is young, flirtatious guy and a spendthrift and that he has fallen for a Tamil village nurse, Lakshmi (Gauthami Nair).She is smart, beautiful, innocent and alas, poor. The director is attempting to portray a bold woman, when she asks Arun what he expects from her and makes it clear that she wants a serious relationship. Later we find them in a tamizhalam duet at the end of which they make love. However, under pressure from his mother, Arun gets married to another woman. Arun's giving into the wishes of his family is very much the norm in Malayalam movies where it is emphasized with very much ado that going against the parents for love will result only in tragedy. Here, rather than seeing it as merely an individual's confrontation, we should seek an answer to why Arun, an oncology specialist, chose not to marry the nurse. A matter of class, perhaps?We do not have to wait long for an answer. The reason as it turns out is purely economic; in common parlance, dowry. One of the main reasons a woman is considered a burden is because of the expenditure incurred in her marriage. It is explicitly shown that Arun wanted a handsome dowry as he married Rajasree (Anusree). Just as the bride's father hands over the earnings of his life with pride, the misogynistic script directs Arun to condescendingly laugh at them, in turn drawing from the audience laughter that seems to reflect how they approve of such a feudal and chauvinistic practice. Through these scenes, the director and the script writer have not only supported dowry but also disrespected a profession instead of hailing that every profession is respectful in its own ways whether it pays in lakhs or not. This misogynist attitude does not end with the above dowry scene. Arun is dissatisfied with his wife mainly because he did not get as much a financial windfall as he had expected and her innocence and frankness that he so benevolently tolerates. Yes, the next thing that DN teaches us - women from villages are intolerable. This dissatisfaction leads to the extent of denying her a sex life, and the wife's agony is shown just in a passing glimpse.Enter Maya (Samvrita Sunil), a cancer patient. We are told her boyfriend had ditched her after he learnt that she was dying. Maya's aunt now demands the ever-cheerful Arun to spread a smile on Maya's face as well. Well, our broad-minded hero happily accepts the offer and spreads cheer through their friendship. The twist takes place when Arun becomes homeless and Maya offers him a room in her apartment. I felt happy when I saw the concept of living together being taken forward in new and positive direction in Malayalam movies after its negative showcasing in Yathrakkarude Sradhakku, which told us that since the girl lived together with a guy, she had to get married to him alone. "Ha! At last, somebody has taken up the courage to overthrow the conservative concepts", I thought. A momentary thought, I should say.The later part of the film rolls around a diamond necklace, earlier shown in a couple of scenes. In the middle of the movie, we are treated to an extended Joy Alukkas advertisement where Joy Alukka comes and explains the purity and quality of jewellery in Joy Alukkas showrooms all over the world; the same show we witnessed in Kasthooriman. Finally, we see the ever broad-minded hero, Arun,handing over the original diamond necklace to Lakshmi as a financial aid because he was responsible for Lakshmi losing her job. Well, what else could Lakshmi do than accepting it, because he was once her lover and though he might have betrayed her, his assistance should be accepted, as he might be still caring for her. The down to earth tolerant and gentle hearted woman can only forgive the man and accept that diamond necklace as a consolation for his rejection rather than throwing it away. We also see Maya, who is a dying cancer patient, adopting spirituality. The society has been equating cancer to death though there are many cases where medical science could save many lives. In the place where it had to be shown that, science might save her life with her willingness to cooperate with the medicines and treatment, we see Maya leaving for a pilgrimage, perhaps out of guilt?Anusree was able to bring the frankness of the village girl through her voice, but her lack of fine control over expression is evident. Gauthami enticed the audience with her eyes and a certain childish naughty expression and that was all. It is high time for Fahd Fazil to come out of his rather monotonous bad boy roles, though he did justice to his role with all the expected body language and expressions. I do not understand the logic behind calling DN a new generation movie. When the story line is still conservative and the politics is misogynist, why call it new? Where is the change that has come about? Is it in making Maya plead for sex? Or boldly showing pre-marital sex and condemning it later? Or affirming that sex will happen when a man and woman live together even as friends? Or re-affirming the conservative view of the land that, the woman loses when a couple has sex? Or that millions should be traded in the name of dowry? That spirituality can be preferred over science as a better treatment for a cancer? A new generation movie, if one claims so, should first question and attempt to uproot the conservative mentality of the society regarding gender relations.
3 Likes
DisLike
MORE INFO
This #hashtag is not ranked yet.